February 2019 – Gyokuro from Hoshino
Thank you for your patience! Finally, we are sending you Gyokuro again. This month we selected a Gyokuro (玉露) from the village of Hoshino (星野村), in the district of Yame (八女), in the prefecture of Fukuoka (福岡).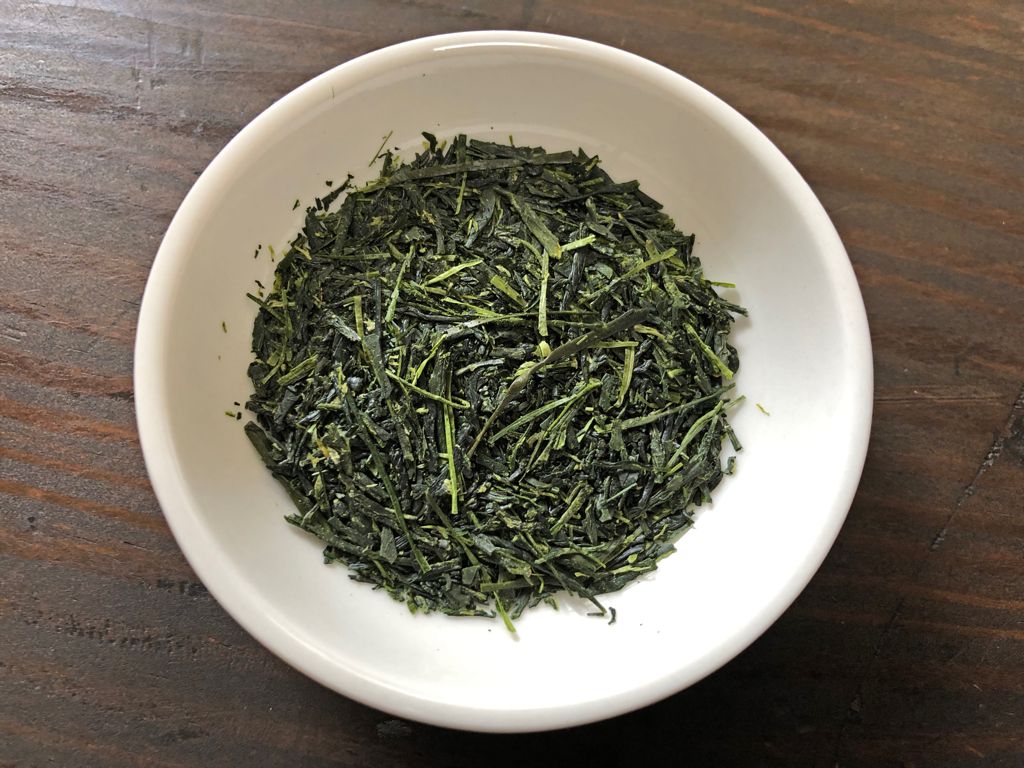 Gyokuro
It is said that Gyokuro is the king of Japanese green teas. Gyokuro is often translated as "jade dew" as its color reminds that of jade. For the elaboration of Gyokuro, you can see our blogpost from September 2015.
I compare Gyokuro to wine, because I think these two drinks are similar in that to make a superior product they both require strict climate conditions and a rigorous process. I have to say that I am also fan of wine!
| | Gyokuro | Premium Wine |
| --- | --- | --- |
| Temperatures | 14 to 16°C | 10 to 16°C |
| Rain falls | More than 1,000 mm | 500 to 800 mm |
| Soil | Drainage, ventilation and hydration are important; gravel or clay not preferable. | Drainage and ventilation are important; gravel or clay preferable. |
| Location | Well-exposed slopes, wide range of temperatures between day and night. | same as gyokuro |
| Period of growth | April to September | April to October, or October to April |
| Harvest | Once a year | Once a year |
| Specific Conditions | Cold and rainy climate, natural management, no pruning of branches, cover the plantations with blinds for 20 to 25 days before harvest, harvest by hand, hand picked leaves, only first soft buds. | Cold climate, low rainfalls, abundant sunshine, canopy (artificial) management with vine pruning, stripping of leaves or green harvest, harvest by hand, destemming, selection of grapes. |
| Components | Catechin, caffeine, amino acids or theanine, vitamins, saponin, tanin… | Water, alcohol, minerals, carbohydrates, proteins, acids, vitamins, tannin, anthocyanin, catechin… |
Gyokuro is not just a drink to satisfy your thirst, but a high-class green tea to taste, like a good wine. It contains a lot of caffeine, much more than coffee! It also contains a lot of tannin (that contributes to bitterness). However, don't worry, these two elements complement each other well and caffeine is softened by tannin.
Usually, I choose a Japanese sweet to enjoy Tomotcha's tea, but this time I had sweet black beans prepared by my mother for New Year. This delicious Gyokuro is a very good match with black beans as they are not too sweet. We do not advise to taste Gyokuro with salty and dry foods, such as crackers or potato chips.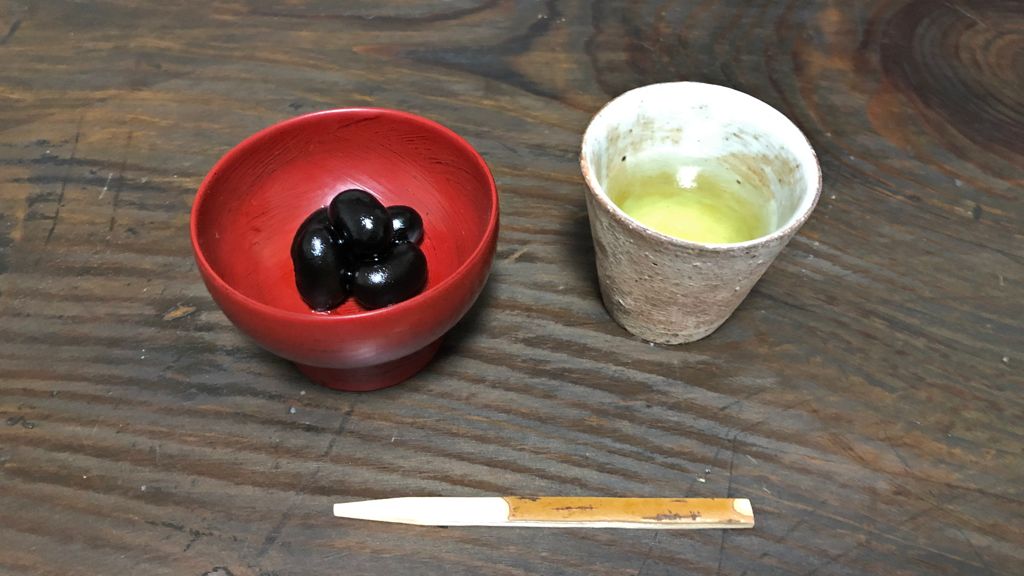 Demons out! Luck in!
As you are starting to understand if you read this blog often, Japanese people like puns and superstitions. I will give you other examples about beans. We collectively call beans (including red/black beans, soy beans, edamames, green peas…) mame (豆). Mame are a very important component in Japanese cuisine.
Mame can also be spelled "good health" (健康) or "assiduity" (勤勉). This is the reason why we eat them for New Year with other auspicious dishes, like Japanese lobsters (its shape reminds us of an old man, making it a symbol of longevity).
On February 3rd, we celebrate Setsubun (節分) which means the turning point between winter and spring, or in other words the eve of spring. We eat the same quantity of soy beans as our age, and throws some in our house, and around the house, while screaming "Oni wa soto! Fuku wa uchi!" (鬼は外 福は内), which means "Evils out, fortune in !". Because we believed that there are demons who come and bring bad things that day and beans have the power to repell them.
There are also 2 puns. First, mame can be spelled "demons' eyes" (魔の目), so we throw beans to blind them. Then, mame can be spelled "destroy the evil" (魔を滅する). So let's throw beans on February 3rd, chanting this magic formula "bibbidi-bobbidi-boo"… No, sorry, "Demons out! Luck in!"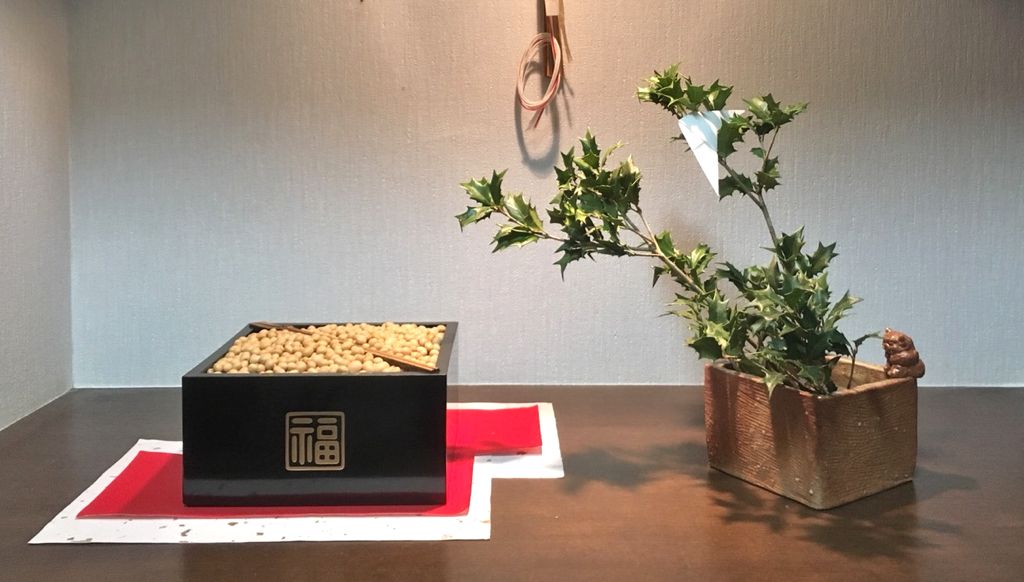 Brewing Gyokuro
Each tea producer has its own recipe to make a good Gyokuro. Here's the recipe for this one: 3 to 4 teaspoons (6 to 7 grams) of Gyokuro for 40 to 50ml (1.4 to 1.7oz) of spring water (you read it right, this is very little water).
The first infusion should last 2 to 2.5 minutes in water at 50 to 60ºC (120 to 140ºF). The second infusion should be shorter (1.5 to 2 minutes) in slightly warmer water (60 to 70°C or 140 to 160°F).
You can also refer to the blogpost of September 2015. Enjoy your tasting, but with moderation this time!