January 2020 – Organic Sencha from Nara
Happy New Year 2020, in good health! We will introduce you delicious teas for this year, just as we did last year!
First of all, we selected an organic Sencha (煎茶), harvested around the city of Nara (奈良市) in the prefecture of Nara (奈良).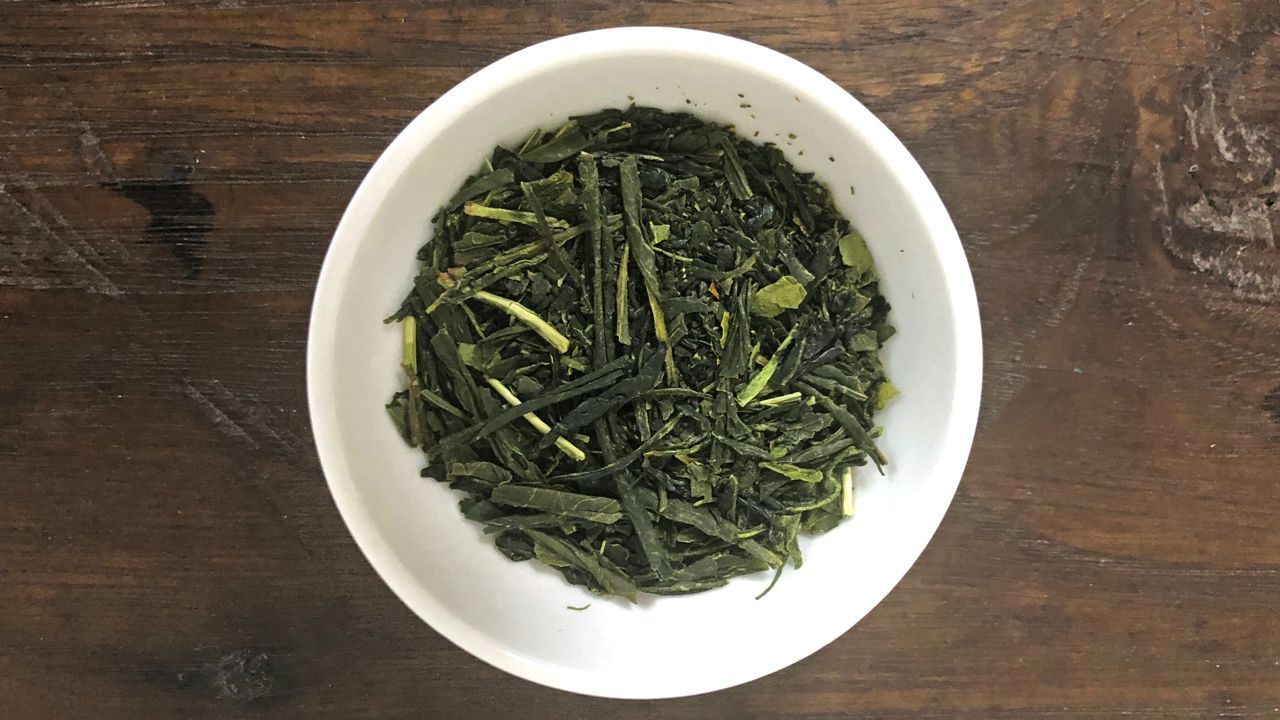 Yamatocha - Sencha
We selected an organic tea for the start of 2020. We call the tea from this region "Yamatocha (大和茶)", because this region used to be called Yamato (大和).
The tea plantation is located in a mountainous area, at an altitude between 40 and 500 meters, East of Nara City. It is ideally located, on the slope of a mountain, optimal for growing tea plants thanks to the angle of the ray of sunshine, the amount of fog, the significant difference of temperature between day and night, etc.
This tea producer decided to stop using insecticides and herbicides in 1995 and practices organic farming. They want to supply us teas without artificial taste or harmful chemicals, namely a mild and refreshing authentic tea. Indeed this Sencha has a fresh taste and a gentle sweetness, and as an aftertaste a mellow bitterness and an agreeable sharpness.

According to the Chinese zodiac, 2020 falls on the year of the rat. In Japan, it is said that the rat is "the messenger of fertility (豊穣の使い)". I chose a sweet having precisely the same name and a cup painted with a bunch of rice stalks for this tea. Rat and rice represent the symbol of fertility or prosperity, respectively. It will be accordingly a fruitful year for everyone.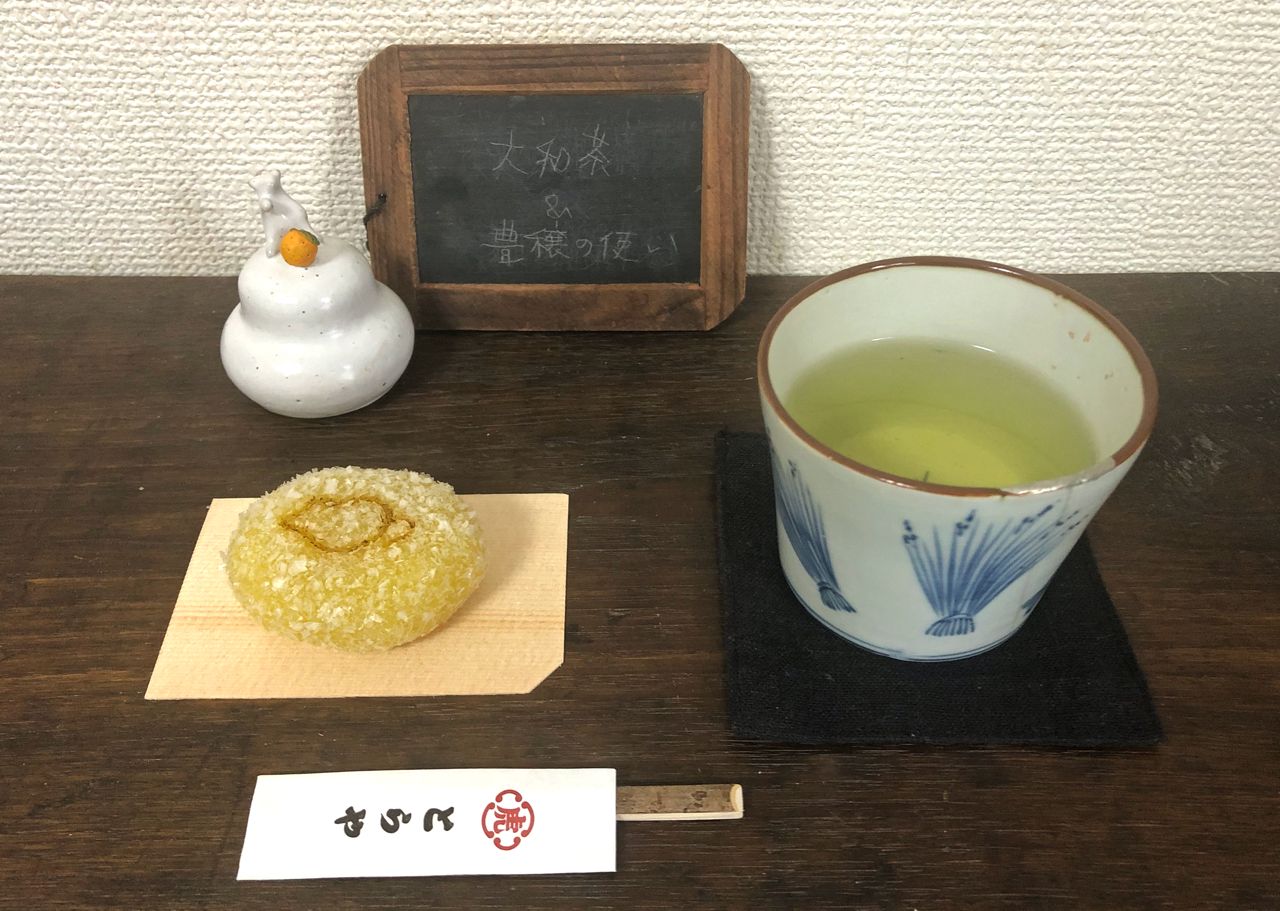 Great Buddha at Tōdai-ji
Nara (奈良) is an ancient capital of Japan, before Kyōto (京都). Therefore, there are many historic sites over there. We often compare Kyōto with Nara. Kyōto is always active, while on the other hand Nara is eternally calm. It is as if Nara was perpetually stuck in the period of Nara (in 794). Even though there are many people, including tourists, and deers everywhere in Nara, serenity reigns in the city.
Maybe it is because of the presence of the Great Buddha (大仏) in Tōdai-ji temple (東大寺)? He has been protecting the city and its people for a very long time (since 752). It is 15 meters high and weighs 250 tons. He sits cross-legged in the temple. It is very impressive to look at him closely.
Generally, we have to visit the temple to see him. However, twice a year, we can look at his face from the outside of the temple, through the front window: on New Year's day and on August 15th. It is a precious moment.
At first glance, you do not understand quite clearly what you are seeing, but the closer you get to the temple, the more you understand what is laying in front of you. It is a magnificent image. In the dark, his face lit by candles slowly appears. That's an amazing experience, very hard to describe. It seems like another world.
Anyhow, if you have an opportunity to come to Japan, I recommend visiting the city of Nara. You will absolutely find out something precious.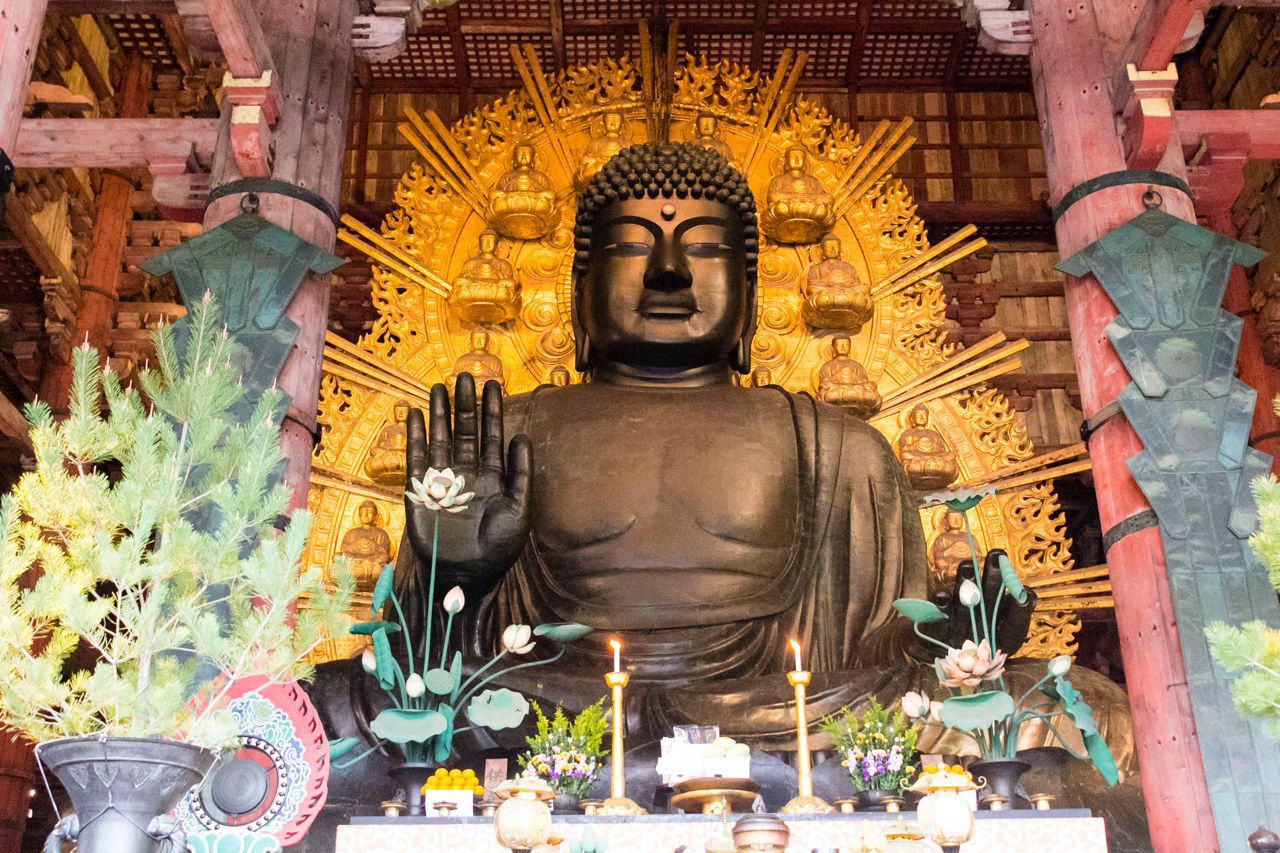 Todaiji Daibutsu, Nara (Oren Rozen – CC BY-SA 4.0)
Brewing Sencha
The amount of tealeaves should be adapted according to the desired taste: it should be around a tablespoon (5 to 6 grams) of Sencha for 100 to 120ml (3 to 4oz) of spring water.
The infusion should last 50 seconds in water at 70 to 80ºC (160 to 180ºF). The second infusion should be done more quickly than the first one, and the third one even more quickly than the second one.
Enjoy your Yamatocha!