December 2016 - Irokawacha from Wakayama
We selected a Kamairicha (釜入り茶) from Irokawa (色川), in the region of Nachikatsuura (那智勝浦) in the prefecture of Wakayama (和歌山).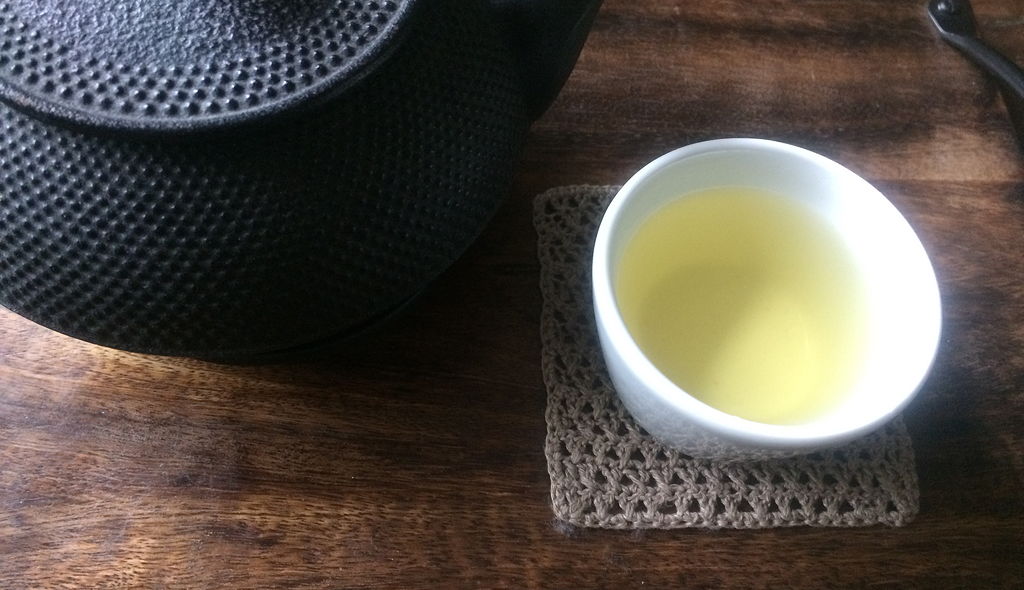 Kamairicha, Irokawacha
The district of Irokawa (色川) in Nachikatsuura (那智勝浦) is located on the slopes with a southern exposure of the Kii mountain range (紀伊山地). The difference of temperature between day and night is intense, and dew covers the tea trees in both mornings and evenings in this region. This mountain climate brings ideal conditions to cultivate tea and the tea of Irokawa is famous for its good quality. Pilgrims of Kumano Kodō (熊野古道) buys it as a souvenir.
Kamairicha (釜入り茶) is not produced by steaming the tealeaves after harvest like other Japanese green teas. Instead it is made by roasting the tealeaves and drying them through kneading. It is a traditional method imported from China to the region of Kyūshū, in the southern area of Japan in the 14th century. The history of Kamairicha is much older than that of Sencha (煎茶), which started to be produced during the Edo period (17th century). According to the oldest book about teas in the world, "Ch'a Ching (茶経)", this recipe had already been established in 706 (Drinking tea go back to at least 2600 BC).
Kamairicha has a stronger fragrance than other teas and this scent is called "Kamakō (釜香)", which means literally "the scent of cauldron". Kamairicha has a fresh taste, and the leaves have a shape of "magatama (勾玉)", similar to the shape of fetus. Steamed tea has a green color, however roasted tea has a yellow color.
The producer of this tea is Irokawachagyō Kumiai, the tea association of the region of Irokawa.
Nachikatsuura, in the prefecture of Wakayama
Nachikatsuura(那智勝浦) is located on the old pilgrimage route of "Kumano Kodō (熊野古道)" which is registered with the World Heritage of UNESCO since 2004. This route "Kumano Kodō" links the shrines and temples hidden in the deep forest of the "Kii Mountain Range (紀伊山地)" with the great shrine of "Ise Jingū (伊勢神宮)". This region is especially famous for its picturesque views, the temple called "Seiganto-ji (青岸渡寺)" and the Nachi Falls (那智).
Brewing Irokawacha
The amount of tealeaves should be adapted according to the desired taste: it should be around 3 tea spoons (8 grams) of Irokawacha for 200ml (6.8oz) of spring water. The first infusion should last around 60 seconds in water between 80ºC and 90ºC (170-190ºF). The second infusion should be done for 20 seconds at 100ºC (212ºF). For the third infusion, more quickly at a higher temperature than the first/second ones.
If you have questions about Japanese teas, please do not hesitate to contact us!